ABOUT US :: BLIND AID INDUSTRIES PTY LTD
Blind Aid Industries has been operating in the south-west region of Victoria for the past 4 years, working in such areas as Geelong, Werribee, Warrnambool, Portland, Ballarat and Hamilton.
We can supply and install a wide range of tactile hazard and directional indicators, step treads and braille signage. We can also consult with you to advise what is required and avaliable to suit your budget and time requirements.
With full Union EBA, an excellent safety record and professional service, we are the preferred supplier and installer for a number of local councils.
We also offer concrete grinding and polishing, as well as colour dying and non-slip surfaces.
All of our products meet the Australian Standards, and copies of CSIRO testing reports are available on request. We also have all relevant OH&S information that will be provided before work commences if required.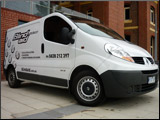 DOWNLOAD OUR BROCHURE
Click on the tactile below to download our PDF brochure (needs Adobe Reader to open):